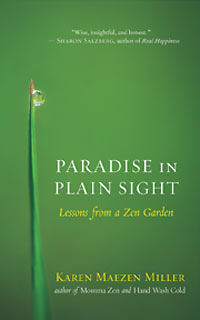 I used to sell signed copies of my books from this website, but before my most recent book was published, I decided I wouldn't do that anymore. What was I thinking?
It's not as though it costs me money. I always sell books at the price I pay for them. It's not as though it takes my time. I slip them into a priority mail flat rate envelope and take them to the post office in my little town, where I don't much mind the long, slow lines, because the people inside the post office are my neighbors, and the service they offer me is sincere. On the days I do business at the post office, the worker there might be the only person I speak to in real life between the hours of eight and four o'clock.
No, it was never too much trouble, but I talked myself into thinking it wasn't my job. My job is to write books, I told myself after years of laboring over the page. It's someone else's job to sell them.
After Paradise in Plain Sight was published, I realized I was wrong. I was wrong in a very familiar and often-forgotten way. I'm wrong whenever I expect someone else to do something for me. I'm wrong whenever I elevate myself above responsibilities that are mundane and unwanted. I'm wrong whenever I forget why I write, which is to be read. It's not the writing alone that gratifies me; it's sharing the work that matters.
So buy this book.
Here is an offering to buy two copies of Paradise in Plain Sight, signed with my name. Two so that you can share one with a friend or neighbor, which will bring you much pleasure. Shipped in a priority mail flat rate envelope to a single domestic address. For $28 total, the best offer on the planet, because no one sells my book better than me.
Two copies of Paradise in Plain Sight
Signed by author
Shipped priority mail to a single US address