Paradise in Plain Sight
Lessons from a Zen Garden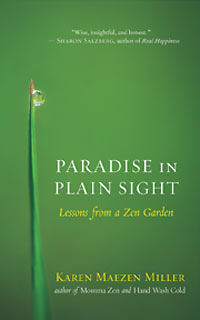 When Zen teacher Karen Maezen Miller and her family land in a house with a hundred-year-old Japanese garden, she uses the paradise in her backyard to glean the living wisdom of our natural world. Through her eyes, rocks convey faith, ponds preach stillness, flowers give love, and leaves express the effortless ease of letting go. The book welcomes readers into the garden for Zen lessons in fearlessness, forgiveness, presence, acceptance, and contentment. Intimate and encouraging, Miller's voice imparts the peace and lightheartedness of one who has found her sanctuary and purpose. In homage to her departed teacher, Taizan Maezumi Roshi, who once gardened the ground Miller now cultivates, her down-to-earth insights are plainspoken and profound. "Come see the garden," she invites readers. "The garden that is your life."
In the tradition of Anne Morrow Lindbergh who offered her timeless meditations in Gift from the Sea, Miller gathers inspiration from the ground beneath her feet to remind us that paradise is always here and now.
praise for paradise
"Miller's graceful writing, hard-learned wisdom, and heartfelt commitment to help her readers find their own bit of paradise here and now make this an inspiring guide." — Publisher's Weekly
"This little slip of a book, like the best of all soulful books, slips deep in your soul practically unnoticed. Suddenly, you're sitting bolt upright, because you've been reading quietly along and you realize you've just inhaled a sentence that packs a spiritual wallop. You needn't be a gardener, nor inclined to long hours of meditation, nor a disciple of Zen. And you certainly needn't travel to the nearest Japanese garden to unearth the truths Miller so generously lays at your mud-sodden soles" — Chicago Tribune
"Readers find it easy to relate to the author's story of finding her way out of fear, selfishness, and doubt to buy a home with a 100-year-old Japanese garden. She takes stock of her rocks, bamboo, and ponds to describe concepts of faith, emptiness, and "right view" . . . stories of bountiful fruits, flowers, and leaves relate thoughts on forgiveness, compassion, and letting go." — Library Journal
"Paradise in Plain Sight, for all its talk of gardening and the little details of domestic life, is one of the most thoroughly and unapologetically Zen books I have read in a long time.  This is not easy Buddhism. This is a book that speaks as the tradition itself does: unflinchingly confident and perfectly at home with not knowing. May we all be so fortunate as to one day open a gate and find ourselves standing in a place so spacious, so overgrown and full of possibility. And may we say yes. — Koun Franz, in Sweeping Zen
"A skillful blend of personal narrative and insightful dharma teaching . . . Miller's prose is always fresh and potent, grounded in the knowledge that anything we do can become a gateway to profound realization — if we are willing to give it the right quality of attention. In Paradise in Plain Sight she writes about moving into a small home in Southern California that included an enormous one-hundred-year-old traditional Japanese garden complete with ponds, fish, and exotic trees and plants. She had little idea what she was getting into at the time. 'The only thing I'd ever grown was mold on bread,' she writes. The process of learning to care for this unusual and demanding garden leads her to a range of new insights and understandings. Eventually, through sustained practice, we discover that what we've been desperately seeking is already here, always has been." — Dharma Spring
"This is one of the most beautiful books I've ever read. Maezen has cleared a path for all of us – from pain and confusion to joy and gratitude. She taught me that the secret garden I've been searching for has existed all along. I just needed to find the right guide." — Priscilla Warner, author of Learning to Breathe: My Yearlong Quest to Bring Calm to My Life, and co-author of New York Times bestseller, The Faith Club.
"Here is a gift to anyone who has ever sought a path, crossed a threshold, kneeled on the earth, planted a seed, secretly yearned for life and love and roots to take hold.  Which is to say, all of us. Paradise in Plain Sight stopped me in my tracks and invited me to look into the backyard of my own life in a different way: with deep attention and radical gratitude.  To read this extraordinary book — so brief in length, yet so magnificently deep and so transparently clear — is to remember that home is where I am and that what I need I have. A simple reminder, perhaps, but offered with such grace and eloquence in these pages that I find myself returning to them again and again, to hear Karen Maezen Miller's voice telling me what my heart knows."  — Katrina Kenison, author of Magical Journey: An Apprenticeship in Contentment
"Karen Maezen Miller is a connoisseur of the commonplace . . . By the end of this enchanting and honest paperback, we saw that Miller hopes that we can see that the chores and diversions and pleasures of everyday life can teach us in the same way that the Zen garden taught her. All we have to do is show up and be attentive." — Spirituality & Practice
"Miller makes the practice of Zen approachable—which doesn't mean easy. She says that as a Zen practitioner "you'll do and say weird things you may not understand." One day, though, "you'll realize it's not mumbo jumbo." I especially loved this: "If you've recognized something in these pages that you want to underline and remember, it's because you already know it. Have faith in yourself as the way." I highly recommend Paradise in Plain Sight. You can read it and then forget everything Miller says. That's what she suggests: "Your life is the life of the entire universe. How can I add a single thing to it?" — Story Circle Book Reviews
"Miller's writing meanders back and forth between the garden, her personal history, and Buddhist teaching, providing indirect glimpse as truth, like a koan. Just as Miller takes almost two decades to discover some of what her garden has to teach, Paradise in Plain Sight is meant to be savored and pondered. For those seeking an Under the Tuscan Sun written from a Buddhist perspective, Paradise in Plain Sight is not be missed." — Portland Book Review
Hand Wash Cold
Care Instructions for an Ordinary Life
It's easy to think that meaning, fulfillment, and bliss are "out there," somewhere outside of our daily routine. But in this playful yet profound reflection on awareness, the compelling voice of a self-described errant wife and delinquent mother reveals the happiness at the bottom of the laundry basket, the love in the kitchen sink, and the peace possible in one's own backyard. Readers follow the author through youthful ambition and self-absorption, beyond a broken marriage, and into the steady calm of a so-called ordinary life. Household chores and caregiving tasks become opportunities for self-examination, lessons in relationship, and liberating moments of selflessness. Miller shows that with attention, it's the little things — even the unexpected, unpleasant, and unwanted things — that count.
Momma Zen
Walking the Crooked Path of Motherhood
The daily challenges of parenthood can become the most profound spiritual journey of our lives. Combining humor, honesty and plainspoken advice, Momma Zen distills the doubts and frustrations of early motherhood into vignettes of Zen wisdom. This compelling and wise memoir follows the timeline of early motherhood from pregnancy through toddlerhood. Miller takes readers on a transformative journey, charting a mother's growth beyond naive expectations and disorientation to finding fulfillment in ordinary tasks, developing greater self-awareness and self-acceptance – to the gradual discovery of "maternal bliss," a state of abiding happiness and ease available to us all.